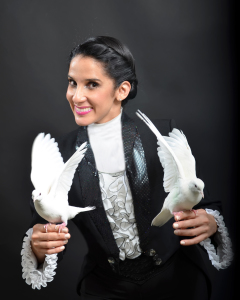 Circe is a Cuban-American professional illusionist based in Las Vegas. She was only 6 when she made her debut as a magician on Cuban television. Later she was formally trained in ballet. At age 16 she developed an act combining magic and ballet, winning the grand prix at two nation-wide talent competitions in Cuba.
Continuing her education, she earned a University degree in Theater Arts. She then became a professional actress in addition to performing magic, and starred as a magician on several major Caribbean cruise ships where she also choreographed and directed the boats' variety shows.
 Resettling in Jamaica, she performed her own magic shows for 5 years at the island's top hotels: Ritz-Carlton, Iberostar Rose Hall Beach, Round Hill, Sandals Royal Plantation, Half Moon, Sandals White House, Wyndham and Riu Hotels, among others.
In 2007 Circe moved to Las Vegas, USA, where she now performs her unique conjuring at some of the finest hotels and corporate functions. She is a regular performer at the world famous Hollywood Magic Castle. During the "Women of Magic" week  at the Magic Castle, Circe was hailed as one of the most talented ladies in today's magic universe.
Her television appearances include France's TV5Monde, Shanghai's TV, America's Univision, Telemundo, The Jerry Lewis Telethon from Las Vegas on NBC, and America's number one magic show on national television, Masters of Illusion, showcasing the world's top magicians and airing in over 100 countries around the globe.
She has achieved international recognition with her original Wings and Dreams act, won the Silver Prize at the Shanghai International Magic Festival and received a standing ovation from a live audience in Paris on the prestigious television show Le Plus Grand Cabaret du Monde.
Circe has been featured in international magic and entertainment magazines, including Magic (USA), Genii (USA), Magie (Germany) and Misdirection (Spain). In France, her photo was selected to appear on the entertainment covers of TVGrandes Chaines, Télé-Poche, Télé-Star and Télé Loisirs magazines to publicize the Le Plus Grand Cabaret TV show.
She was brought up in a family of artists. Her father (a magician and sculptor) and her mother (a classical ballet dancer) were the main influences in her personal and professional development.
Circe specializes in dove magic, is a skilled close-up performer and combines all her conjuring with comedy, dancing and acting. Her goal is to amuse and entertain the audience, to make them smile and enjoy illusion. Her greatest wish is to create wonder and leave a lasting experience of joy and beauty in the spectators' hearts.